Do you want to book this penthouse? Call +31 (0)6 50666333 or click "book online". You can also request a quote.

Welcome to Penthouse La Royal!
This beautiful 130 m² penthouse is part of a tropical mini resort located in the popular luxury villa district Vista Royal. The mini resort is unique in design with sufficient privacy at each individual accommodation and is also suitable for larger groups, if the Penthouse is rented in combination with the two underlying apartments.
The large swimming pool and spacious tropical garden are both for shared use. Around the pool is a large sun terrace with plenty of sun beds, hammock chairs and two large palapas to enjoy the sun or cool down in the shade comfortably.
The Penthouse is located on the first floor, has 3 double rooms, can accommodate up to 6 people and has its own entrance.
If you want to stay in the Penthouse and want to use the resort for sole use, then there is a surcharge of the night price of 1 apartment (unless separately rented).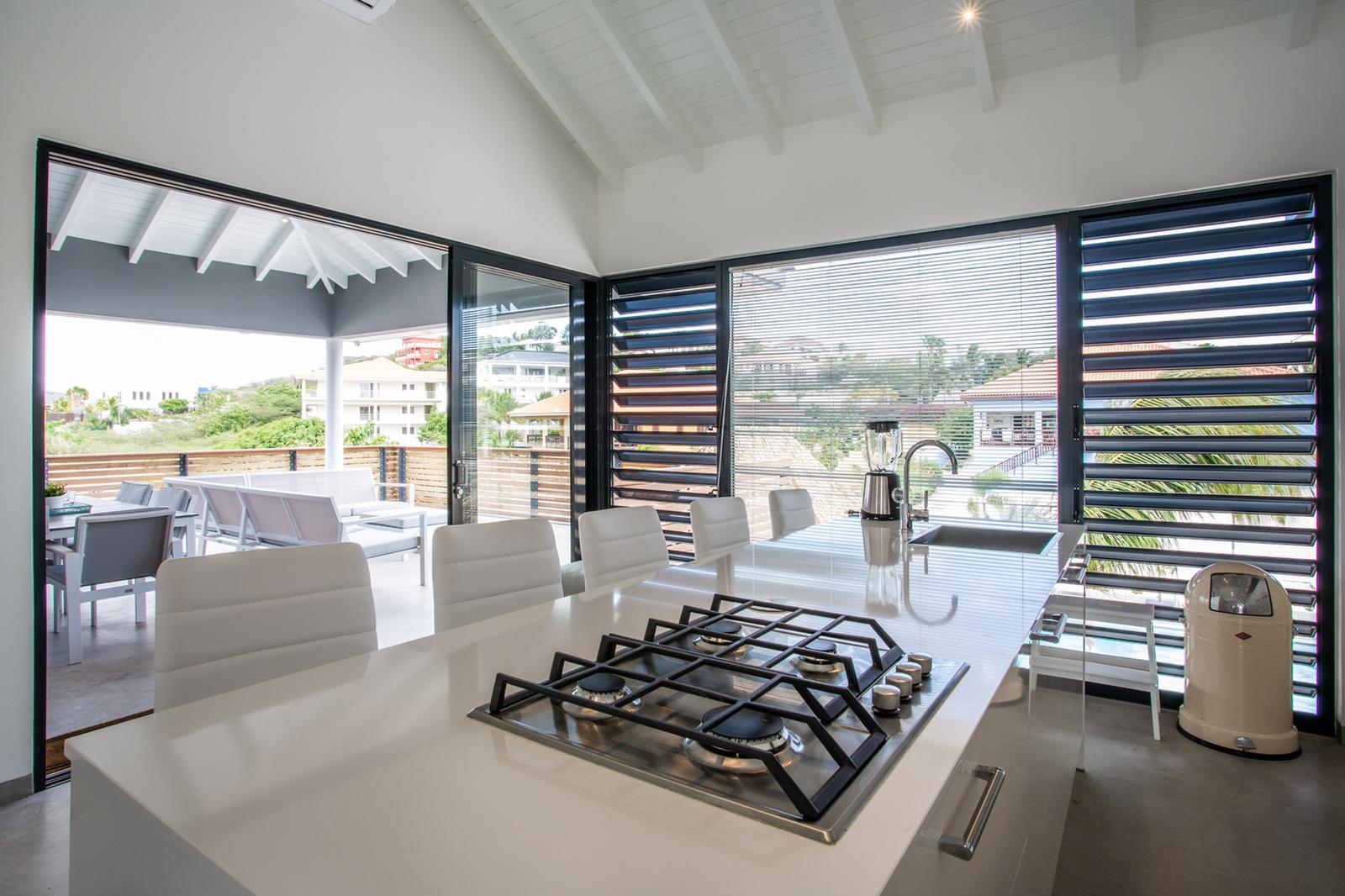 The Penthouse is fully equipped and has a luxurious open kitchen with, among others, a cooking island with bar section, American fridge with ice machine, convection oven with microwave, separate steam oven, dishwasher, built-in espresso machine, juicer, blender, toaster and Nespresso machine.
The living room has a fresh, modern interior and flat screen TV with all major (NL) channels including Netflix.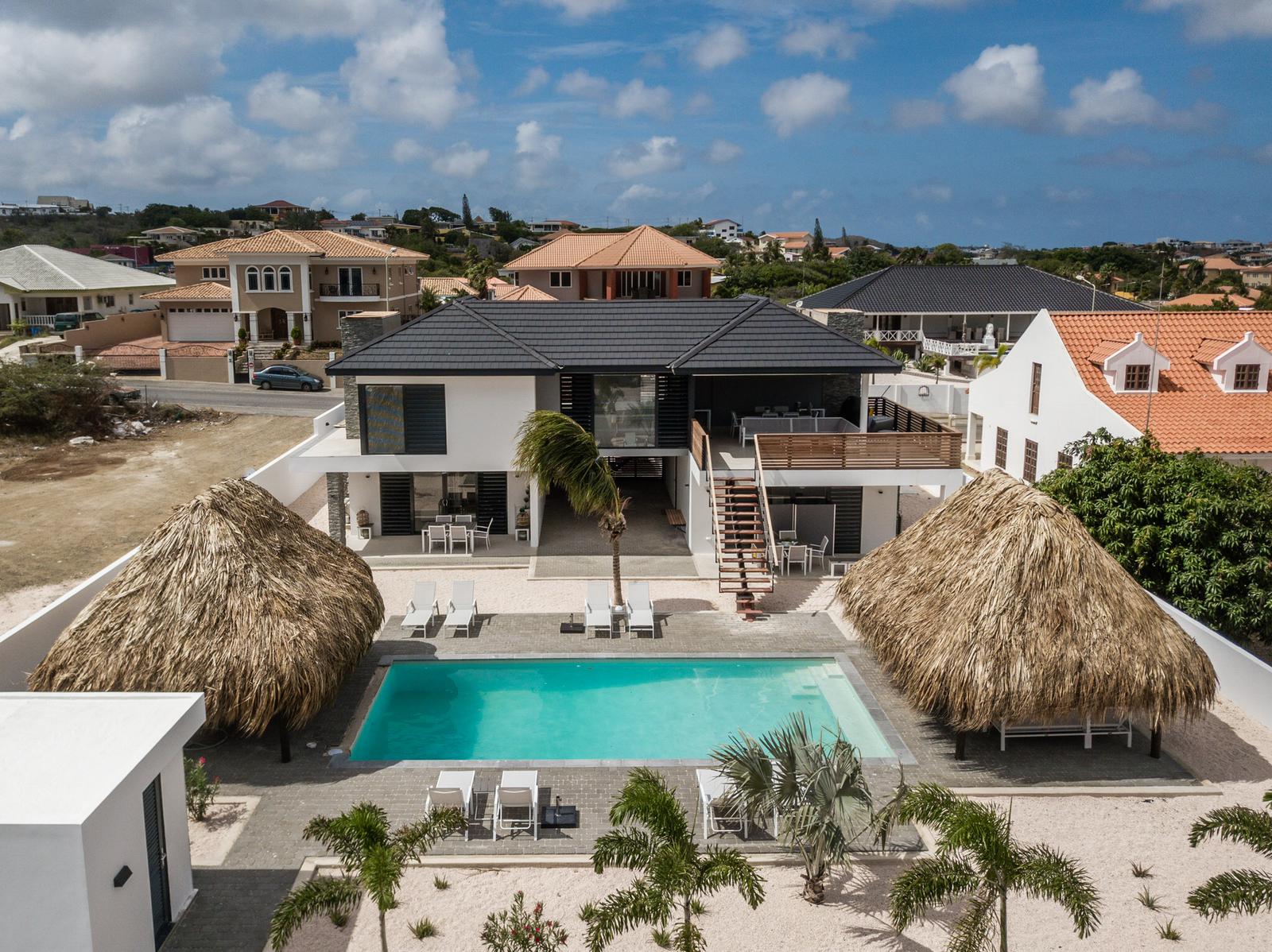 The spacious master bedroom has a walk-in closet and private bathroom; the other two bedrooms share the second bathroom.
Both at the front and at the back there is a spacious terrace with stunning views over the Spanish water.
Here you can enjoy the sunrise and sunset from a comfortable lounge area and delicious outdoor dining. The garden and the swimming pool can be reached by a staircase from the terrace.
If all three properties are rented, it is a beautiful villa that can accommodate up to 14 people in its entirety.
It is completely fenced and there is an automatic entrance gate with alarm system. On the private parking lot there is enough space for parking 6-8 cars
[lm_iframe]https://publicverhuuradministratie2.reflexholiday.nl/OnlineBooking/Search/Search.aspx?relation=mIGh5Tf8gxg%3d&languageid=2&objectid=JLxh%2b7StBaA%3d&searchmode=2&dat=2[/lm_iframe]
€ 240,- per night
€ 1.680,- per week
18 February – 4 March 2023
23 April – 8 May 2023
8 July  – 3 September 2023
14 October  – 29 October 2023
€ 265,- per night
€ 1.855,- per week
2 3December 2023 – 7 January 2024
€ 375,- per night
€ 2.520,- per 2 weeks
What a great stay we had at Hasta la Vista Royal! We stayed for a pretty long period of time, but had a hard time saying goodbye to this beautiful place! A perfect retreat for a family, or several families! A calm and quiet place, with all the well working modern amenities you could wish for! Internet was very good, we enjoyed many BBQ's and long tropical evenings on the porch at the back of the penthouse. Nice cooling winds and great views over Table Mountain, Spanish Water and the yacht harbor. And what a pool! We spent multiple days at the pool and under the huge and cooling palapa's. The best was the open-air showers on the first floor. How great is it to stand outside under the stars and having a shower in the open air. A great add-on! All in all a highly recommendable stay!
Michel & Carola
Amsterdam, The Netherlands
We really enjoyed our stay in Hasta la Vista Royal, a hidden gem in the beautiful Jan Thiel Beach area. We stayed with three families in the tropical mini resort and had a great time. We were checked in by Olga, a wonderful host and she gave us numerous tips where to go and could also book with interesting discounts. Our kids had a great time at the pool. We often went to Jan Thiel Beach, Zest was our favorite. One thing we really liked was the fact that all bedrooms had Netflix and all Dutch tv-stations including sports, that Robert liked a lot. Also the coffee (both Nespresso as well as a built-in coffee-bean-machine in the penthouse-kitchen) we enjoyed every morning! The mini resort is gated, secured and feels like a little oasis of calm and tropical beauty. We booked in combination with a car, at very favorable tariffs. It completed our lovely stay. We can only highly recommend this beautiful holiday destination.
Robert & Claudia, Lilly & Miki
The Hague, The Netherlands
We had our wedding on the island. We booked this beautiful location for ourselves and our parents, who both stayed in the ground floor apartments. The owners were very flexible and easy going. They supported us in organizing a meeting/cocktail-party with all our guests at the pool. Was a memorable night! Our parents also enjoyed the trip. Olga and Anne were very friendly, they organized our trip to Klein Curacao. Perfect! The boat trip started at walkable distance from Hasta la Vista Royal. Great memories, Hasta la Vista Royal (funny name) made our trip one to never forget!
Oliver & Dagmara
Frankfurt am Main, Germany